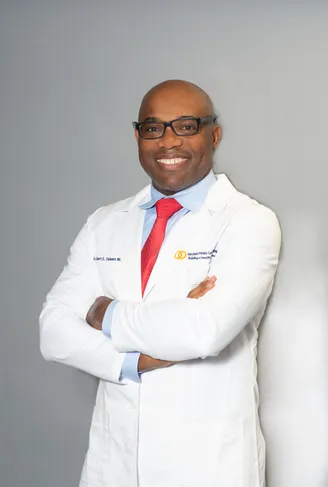 Origins
Albert Takem was born and raised in Cameroon in central Africa and moved to Italy in 1997 to study Medicine at the University of Bologna.
Education & Experience
Dr. Takem studied medicine at the University of Bologna in Italy, graduating summa cum laude.
He moved to the US for his residency in Internal Medicine at Jamaica Hospital Medical Center in New York. He has worked in many hospitals in the DC including Doctors Community Hospital, Washington Hospital Center, Shady Grove Adventist Medical Center and White Oak Medical Center caring for acutely ill patients.
Dr. Albert E. Takem is board certified in Internal Medicine and Obesity Medicine by the American Board of Internal Medicine (ABIM) and the American Board of Obesity Medicine (ABOM) and currently practices. In his spare time, he loves playing golf, watching sports and playing entertainer-in-chief to his children.
Dr. Takem is actively licensed to practice medicine in the states of Maryland and Virginia. He is involved with multiple associations and medical boards, including:
American Medical Association, Member
Obesity Medicine Association, Member
Council of the Obesity Action Coalition, Member
If you're interested in learning more about our services, simply get in touch.